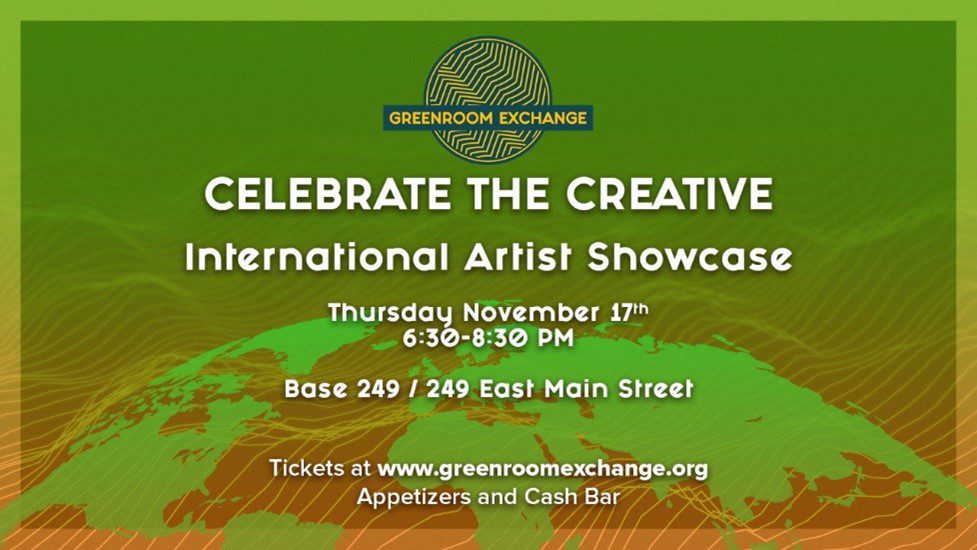 Save the date and get your tickets now! GreenRoom Exchange's Celebrate The Creative includes a highlight of our local international Artist Grant winners along with a silent auction of creative experiences!
Get your tickets here: Celebrate The Creative
This year's local international artist grant winners are all women! They include:
Lakshmi Sriraman, from India, will present an original dance that incorporates Bharatanatyam folk dance, classical Carnatic music and poetry with music she's recorded in India.
Sophia Wiunda, from Tanzania, will provide a fashion show of African designs she has tailored.
Regina Harris, from Angola, and her students will perform Capoeira, a Brazilian martial arts that originated in Angola as a form of vibration/dance used by slaves to keep their culture alive.
In addition, a few of last year's winners will be back – Teddy Kabengele will sing his original music and Yamukumba M'bayo will show the photo's he took in the Democratic Republic of Congo as part of last year's grant.
Come join the fun, enjoy appetizers and a cash bar. Support the exciting work of GreenRoom Exchange, creating international cross collaboration through the arts.
WHEN:
Thu - Nov 17, 2022 to Thu - Nov 17, 2022
TIME:
6:30-8:30PM
WHERE:
Lexington, KY
VENUE:
Base 249