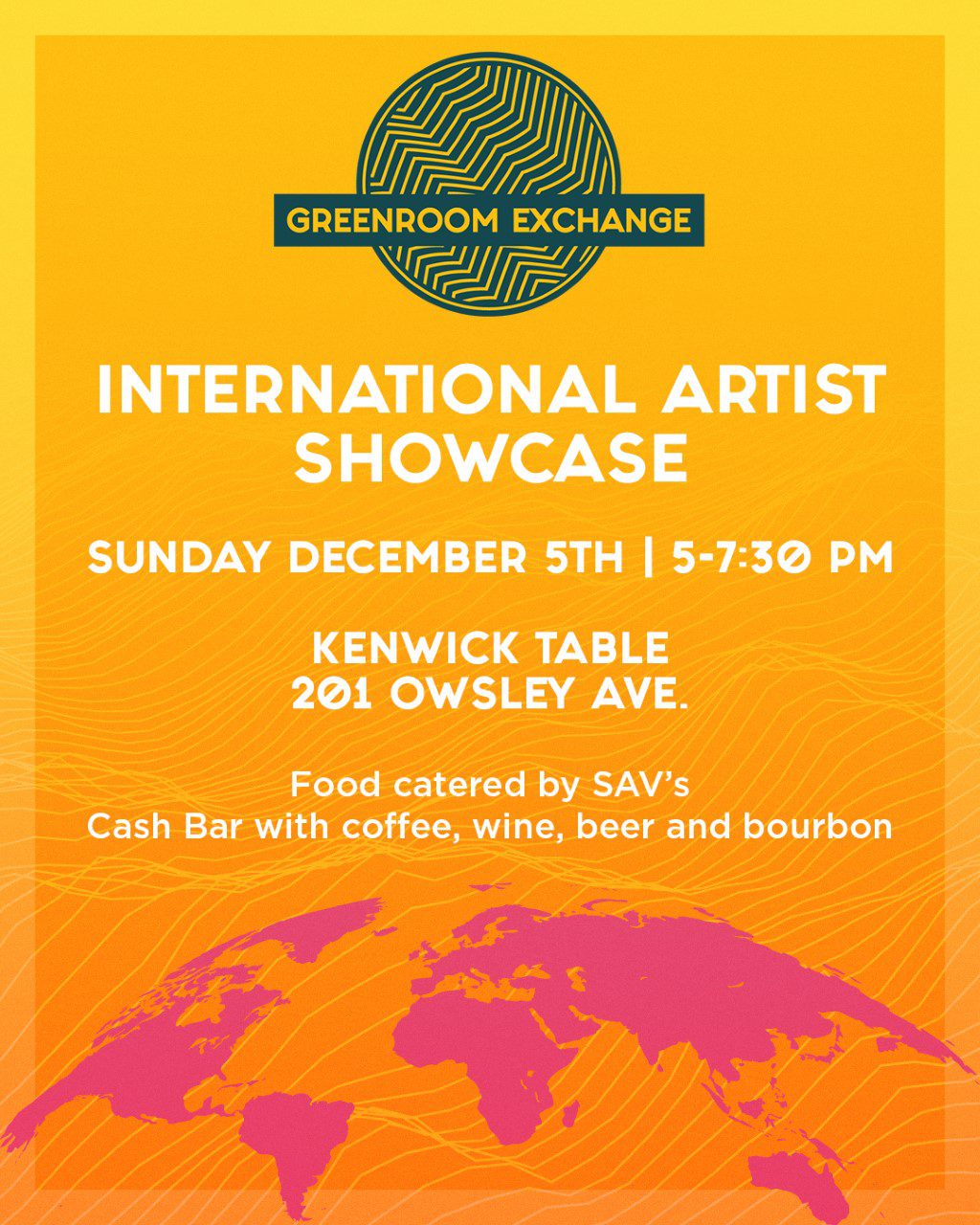 The International Artist Commission Grant applicants have been selected! You're invited to their artist showcase December 5th from 5:00-7:30!
GreenRoom Exchange is excited to introduce you to our award recipients and invite you to an event to showcase their work. These local artists are expressing themselves in unique ways that reflect their country of origin. They each have a profound story of how they came to Lexington and an artistic project that reflects their talent and history.
We are pleased to introduce you to:
Teddy Kabengele – Musician with a live gospel music project, from the Democratic Republic of Congo, refugee from Zambia
Aous Naasree – Graphic artist working on fabric, leather and paper with a design inspired by Babylon's Ishtar Gate, from Iraq, refugee from Syria
Yamukumba M'baya – Photographer with a photojournalism project, from the Democratic Republic of Congo, refugee from Zimbabwe
Please join us for an event to showcase their projects – listen to their stories, hear their music, see their art, and provide support for them and GreenRoom Exchange. It will be wonderful to see you!
GREENROOM EXCHANGE INTERNATIONAL ARTIST SHOWCASE
DATE: SUNDAY DECEMBER 5TH
TIME: 5-7:30 PM
LOCATION: KENWICK TABLE
201 OWSLEY AVE.
FOOD CATERED BY SAV'S – CASH BAR with coffee, wine, beer and bourbon
DONATIONS APPRECIATED – https://www.greenroomexchange.org/donations/
We look forward to seeing you on December 5th at Kenwick Table! Masks are encouraged, especially if you are unvaccinated. If you are unable to attend, please consider a donation to support the work of GreenRoom Exchange.
WHEN:
Sun - Dec 05, 2021 to Fri - Nov 05, 2021
TIME:
5 - 7:30PM
WHERE:
Lexington, KY
VENUE:
KENWICK TABLE