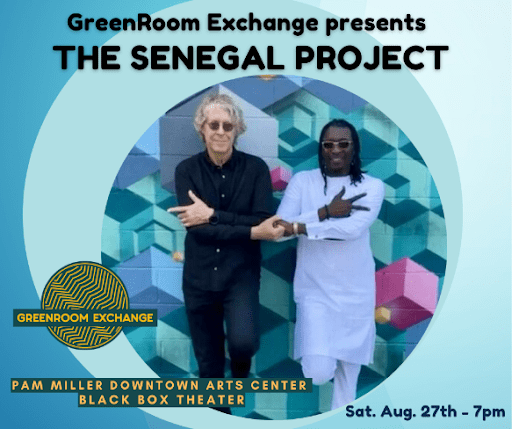 Dear Friends of GreenRoom Exchange,
We are very excited to announce the long-awaited album premier of The Senegal Project at the Pam Miller Downtown Arts Center on Saturday August 27 at 7pm!
Purchase tickets here
This concert is the culmination of two years of work between Senegalese singer/songwriter Alioune Guisse, and Lexington musician/producer Lee Carroll. It has involved two trips to Senegal to record in studios in Dakar with the top Senegalese studio musicians, and numerous trips to Lexington to record in Duane Lundy's Lexington Recording Company with Lexington's finest musicians.
From the beginning, this has been a collaborative project between Alioune's creative song writing and Lee's composing talents. They have taken traditional Senegalese Mbalax music, known for its intense, fast rhythms, and overlayed it with American jazz and soul. This is the best example of creating World Music.
It has been GreenRoom Exchange's dream from the beginning to create collaborative projects that highlight the inspired and exciting things that can happen when cultures work together. Four Senegalese artists will be joining Lee Carroll's C The Beat band to put on this concert. It will be a tour de force – with amazing costumes and a slide show of Senegal travel photos.
Come support the debut of their amazing work! Tickets will sell out – get yours early.
Online at Tickets for The Senegal Project
or call the box office during business hours at 859-425-2550.
We look forward to seeing you on August 27 !
Connie Milligan and Lee Carroll
GreenRoom Exchange
WHEN:
Sat - Aug 27, 2022 to Sat - Aug 27, 2022
TIME:
7pm
WHERE:
Lexington, KY
VENUE:
Pam Miller Arts Center