Green Room Exchange Donations
As a 501C3 non-profit, GreenRoom Exchange provides exciting concerts, lectures and workshops thanks to your generous support! Your tax-deductible donations can be made directly through the form below.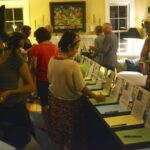 Annual Fundraiser – "Celebrate The Creative" is a lively music and food filled extravaganza that offers a silent auction of creative experiences, a live auction of fun art inspired stuff and interactive art installations.
Mark your calendar – this year's Celebrate The Creative is August 15, 2020 – Admission is $25.
Merchandise
Mailing List URL
Purchase Tickets URL